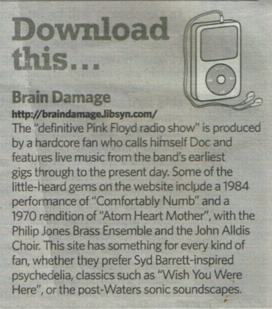 After posting The Daily Aztec article, fellow Brain Damaged listener Mike S, posted a comment saying he was in London between the 3rd and 16th of September '06 and first learned about Brain Damage from a small mention he saw in the The Times!
The Times is a national newspaper published daily in the U.K. since 1785 and its been regarded as Britain's "newspaper of record" and is preserved in the British Library's newspaper library in that capacity.  It's a very big deal.
Mike was kind enough to send a scan of the clipping he saved.  Very cool!  Thank you Mike and thanks to the unknown individuals at The Times who made the mention.  Its an honor to be in Pink Floyd's hometown newspaper!