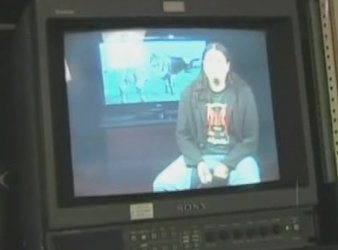 Show #138 Release date: 1. August, 2009
One hundred podcasts and 4 years ago this show entered the digital realm.  I had no clue what I was doing and I never imagined it would become so well received.  I can't thank you enough for your support.
For this special 100th edition, you'll get to enjoy Brain Damage this time in video.  Remember when MTV actually played music videos?  That's what this is like.
Before becoming a radio DJ, I worked in video production when BetaSP and 3/4″ Umatic were the standard.  A lot has changed since I left, so here I am again with no clue what I'm doing.
Quicktime is required to watch.  The file is large, at 654,135 KB which is 5 times the size of a normal podcast.  If you click on the video below it will launch Quicktime, but be patient.  Otherwise I recommend you right click and 'save as' to watch it later.
I have to thank my good friend Michelle for this would not of been possible without her.  Please enjoy (I hope this works on your end)!
Podcast: Play in new window | Download (Duration: 1:04:00 — 569.1MB)
Subscribe: Apple Podcasts | Android | iHeartRadio | Blubrry | Email | TuneIn | RSS | More