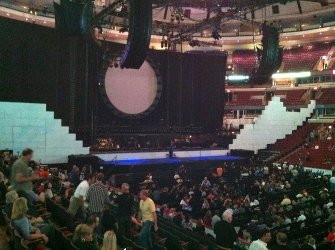 Show #159, Release date: 1. October, 2010

And so it continues.  Perhaps a concert series?  Tell me what you think.  Anyway, The first US date kicked off in Chicago's United Center, 20. September 2010.  I won't post the set list, BUT Again… the set list should come as no surprise.
This was a first time for many seeing this intense production.  It was my first time.  I have a "no pee during a show" policy but close to the end of the first set, nature called and I couldn't hold it anymore.  The cool thing was I felt like Pink during the bathroom scene in the film because of the concert noise in the background.  You gotta try it! Anyway, I had such a blast meeting up with everyone from AFG again and I even got to meet some great new people.  It was a very special time.
For this podcast, I took two recordings and blended them together.  One by Ravingandrooling which I doctored up and another by Tapehead2, from his 2nd version.  It sounds mind blowing!  You be The Judge.  Get it?  Enjoy!
Photo by: Doc (with an iPhone4 from section 111, Row 13, seat 8, 20. Sept., 2010)
Podcast: Play in new window | Download (Duration: 1:57:45 — 134.9MB)
Subscribe: Android | iHeartRadio | Blubrry | Email | TuneIn | RSS | More