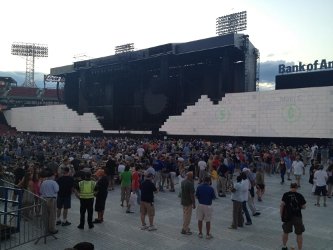 Show #188, Release date: 15. July 2012
This was my 15th time seeing The Wall but it was my first time seeing it outdoors. The size of the wall was amazing… to see it so wide and tall.  It was truly spectacular.  I still prefer it inside over an outdoor or "stadium" setting but it's very cool to see in such a large scale.  Fenway Park is uniquely special and to us Bostonians, its sacred ground.  Roger at Fenway Park was a big deal.  This is a matrix. It came out wiched pissa.
I saved a piece of something specal from the concert for you to WIN.
Podcast: Play in new window | Download (Duration: 2:00:36 — 138.2MB)
Subscribe: Apple Podcasts | Android | iHeartRadio | Blubrry | Email | TuneIn | RSS | More