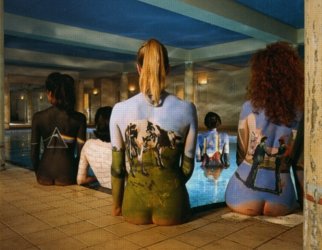 Show #90 Release date: 20. July, 2007
The image to the right is an alternate version of the famed back catalogue poster.  The girls are the same except the relics girl is missing and the album order from left to right is different.
Brain Damage listener Shaidar Cuebiyar challenged me to do a podcast only based on that image.  His requirements were as follows;
– One or two live versions of tracks from each album.
– Each performance must have occurred before the poster was made in 1996.
– Performances should be as close chronologically to the relevant album as possible.
Okay, fair enough.
Podcast: Play in new window | Download (Duration: 1:58:25 — 108.4MB)
Subscribe: Android | iHeartRadio | Blubrry | Email | TuneIn | RSS | More