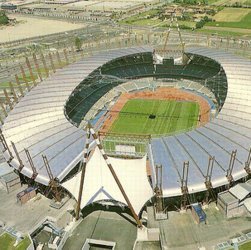 Show #98 – Release date: 9. November, 2007
Originally featured on Brain Damage Show #32, Air date: 1. April, 2005 –  Stadio delle Alpi, Torino, Italy, 13. September 1994.  Torino was former host city of the 2006 Winter Games, It's located in the shadows of the Italian Alps close to the French and Swiss Borders.
Taken from the soundboard, this recording could render your copy of PULSE useless had Floyd played all of Dark Side of The Moon on this one, but alas, they don't.  So, you better keep your copy of PULSE around for good measure.
This is the only soundboard recording floating around from Floyd's 94 Division Bell tour.  The audience as well as the band were having fun and David even gets to practice his Italian with the crowd.  During Money, David slips up on the lyrics and starts laughing.  Later, the girls on back up vocals start having their own fun when they unexpectedly started jamming on kazoos
Podcast: Play in new window | Download (Duration: 2:47:49 — 192.3MB)
Subscribe: Apple Podcasts | Android | iHeartRadio | Blubrry | Email | TuneIn | RSS | More