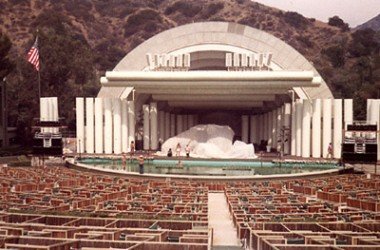 Show #65 Release date: 4. August, 2006
The third and final installment of the L.A. Concert series. The premiere of Dark Side of The Moon for the Hollywood glitterati, 22. September 1972.
The Hollywood Bowl officially opened in 1922 on the site of a natural amphitheater formerly known as the Daisy Dell.  Roger and his band will perform Dark Side of The Moon at "The Bowl" later this year, October 5th, 6th, and 7th.
This podcast starts out with David Gilmour's acoustic performance of Dark Globe, recorded live last week 27. July 2006 at Clam Castle, Klam, Austria, as a tribute to Roger Barrett.
Photo: The Hollywood Bowl during setup for Pink Floyd's concert on 22 Sept.1972.
Podcast: Play in new window | Download (Duration: 2:12:33 — 121.4MB)
Subscribe: Android | iHeartRadio | Blubrry | Email | TuneIn | RSS | More