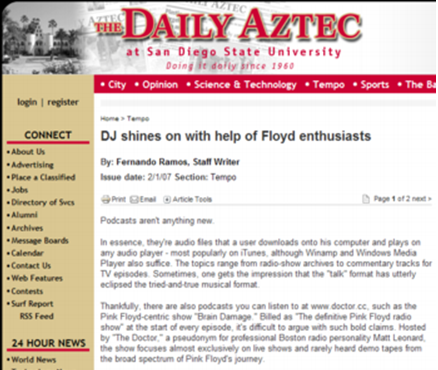 Fellow Brain Damage listener Fernando Ramos, a television, film and new media production senior at San Diego State University happens to be a columnist for the entertainment section of San Diego State University's newspaper, The Daily Aztec.  A few weeks ago Fernando asked if he could interview me for and upcoming article and here it is.  He wrote up a very nice one indeed.  Thank you Fernando!
DJ shines on with help of Floyd enthusiasts
By: Fernando Ramos, Staff Writer
Issue date: 2/1/07 Section: Tempo
Podcasts aren't anything new.
In essence, they're audio files that a user downloads onto his computer and plays on any audio player – most popularly on iTunes, although Winamp and Windows Media Player also suffice. The topics range from radio-show archives to commentary tracks for TV episodes. Sometimes, one gets the impression that the "talk" format has utterly eclipsed the tried-and-true musical format.
Thankfully, there are also podcasts you can listen to at floydpodcast.com, such as the Pink Floyd-centric show "Brain Damage." Billed as "The definitive Pink Floyd radio show" at the start of every episode, it's difficult to argue with such bold claims. Hosted by "The Doctor," a pseudonym for professional Boston radio personality Matt Leonard, the show focuses almost exclusively on live shows and rarely heard demo tapes from the broad spectrum of Pink Floyd's journey.
As the mastermind behind the album "The Dark Side of the Moon" – famous for its 741 week reign on the Billboard Top 200 chart and carrier of the song from which the podcast takes its title – Pink Floyd requires little introduction.
A fascinating mixture of furious guitar work, biting social commentary and bold experimentation in both its aural design and highly stylized visual live shows that have resisted the test of time, the band has rightfully earned its place standing tall among the giants of rock. As such, a show such as "Brain Damage" is nothing short of a gold mine.
The Doctor elaborated on the origins of the show.
"The whole thing came about when I was doing a cool rock radio show playing kick-ass tunes at Tufts University's radio station, WMFO," he said. "From time to time, I'd do an occasional Floyd feature. Eventually a few listeners and a good friend kept nagging me to do a regular Floyd show."
This was able to take shape when The Doctor was given a lucky break.
"I was scheduled a huge block of time," he said. "I ended up splitting the time into two shows, the later half being a Floyd show. That's how it all started."
Unfortunately, the show was canceled a short while later, but after much shopping on The Doctor's part to other universities and Internet radio stations that weren't interested, he still wasn't ready to close his practice.
"I thought to myself, 'Screw it, I'll podcast the show,'" The Doctor said.
Despite his initial worries of losing his audience from the transition, he built his own studio from the ground-up.
"The first podcast was right on schedule, and my audience followed," The Doctor said. "The show (is) now accessible anytime and could be listened to anywhere."
What followed was a boon for the Pink Floyd enthusiast and classic rock fans alike. On a regular (usually biweekly) basis, The Doctor injects each podcast with about a two-hour dose of Floydian goodness.
Each episode has a unifying theme ranging from the complete live performances to more esoteric "Floyd's Worst Moments" – a collection of various technical blunders and, most amusingly, singer Roger Waters' infamous temper tantrums. It's these latter shows that make the podcast so much fun for both the listeners and the host.
The Doctor says he's proud of quite a few shows, but Podcast No. 67, "One of Your Turns," is his personal favorite.
"That one featured the audience," he said. "I asked listeners to send me their own introduction for the song of their choice."
The final effect, hearing the listeners share memories they have associated with the selections, is similar to a particularly trippy episode of National Public Radio's "This American Life."
One fact that may surprise some listeners, given the continuing controversy over MP3 distribution, is the Recording Industry Association of America is mostly hands-off with the show.
"They seem not to mind what I'm doing," The Doctor said. "If they tell me to stop, I will."
That doesn't seem to be anytime soon. Shows are still being updated, and The Doctor isn't secretive about the fun he has recording it.
"Meeting the people around the world that all dig a similar interest in Floyd is most rewarding," he said. "I get to combine my two passions: radio and Floyd."