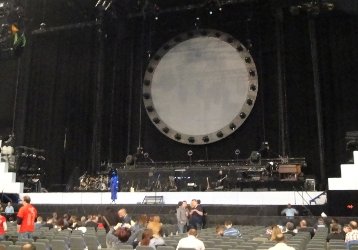 Show #170, Release date: 22. May, 2011
In keeping with the tradition of featuring a Wall gig for every city I've seen it in, as promised, here's the big show from London.  This was my ninth time seeing The Wall and by far the most special.  It was the night David Gilmour returned the favor to Roger.  As things would have it, Nick Mason was also there and joined in.  The surviving members of Pink Floyd, reunited on stage for the first time since Live8.  It was amazing!  Roger and the band sounded tight and the sound is incredible!  I had an excellent location to record from and I'm pleased to present it to you.
Live at the O2 Arena, London, U.K., 12. May 2011.  With Special guests… David Gilmour and Nick Mason!
A huge special thanks to Jeff (aka Ravingandrooling).  Photo taken from my seat with an iPhone3Gs.  Section B3, Row A, Seat 50
Podcast: Play in new window | Download (Duration: 2:00:13 — 138.5MB)
Subscribe: Apple Podcasts | Android | iHeartRadio | Blubrry | Email | TuneIn | RSS | More